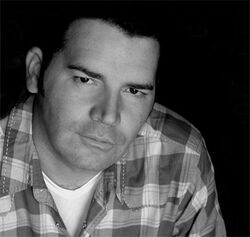 Bradley Sherwood was born on the 24th November, 1964 in Chicago, Illinois, and later, grew up in Santa Fe, New Mexico. He began acting at the age of eight. He graduated from Wright State University with a BFA in Acting and, soon thereafter, took his talents to Hollywood. His first real role was on the sketch-comedy series "The Newz" (1994), though he also made several guest appearances on "L.A. Law" (1986) as a lovestruck nanny. Sherwood continued to make appearances on "The Tonight Show with Jay Leno" (1992). He was also a regular on VH1 as a commentator. In 1992, Sherwood became a recurring performer on the improvisational comedy show "Whose Line Is It Anyway?" (1998). He then turned his attention to stand-up, and made an appearance on 2002's Jane White Is Sick & Twisted (2002) alongside with fellow "Whose Line" co-star Colin Mochrie. He also hosted "The Dating Game" (1997) from 1997-98, and "The Big Moment" (1999) in 1999. In April 2006, he teamed up again with Colin Mochrie to tour the United States and Canada, performing classic improv games from "Whose Line". Brad Sherwood also became engaged in 2006 and married long-time partner Shauna in February 2007.
Ad blocker interference detected!
Wikia is a free-to-use site that makes money from advertising. We have a modified experience for viewers using ad blockers

Wikia is not accessible if you've made further modifications. Remove the custom ad blocker rule(s) and the page will load as expected.