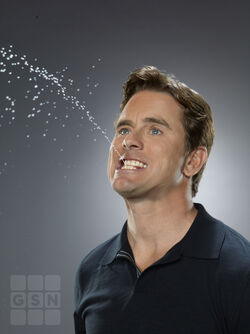 Born in Pittsburgh, Pennsylvania, and raised in Alexandria, Virginia, Esten was part of a large extended family. It was in that big group that he found his sense of humor. After graduating from The College of William and Mary in Williamsburg, Virginia, he moved to Los Angeles, where he worked and learned improv at the Groundlings Theatre. Since the British version of "Whose Line Is It Anyway?", Esten has made regular appearances on the American version of the show. He has also gueststarred on many other shows, including LA Dragnet, NYPD Blue, Providence, Party of Five, Lois and Clark: The New Adventures of Superman, Cheers, ER, NCIS: Los Angeles, and The Drew Carey Show. On the big screen, Esten appeared in the Kevin Costner-directed The Postman, Thirteen Days, and Billy Crystal's 61*. Along with other cast members of Whose Line Is It Anyway? (US version) and Drew Carey's Green Screen Show, Esten was part of the Impro All Stars. He and three former cast members Ryan Stiles, Greg Proops and Jeff Davis still tour around the US and Canada doing live improv under the name Whose Live Anyway?. Esten and his wife, Patty, whom he met in college, reside in Los Angeles with their daughters, Taylor and Addie, and son Chase.
Ad blocker interference detected!
Wikia is a free-to-use site that makes money from advertising. We have a modified experience for viewers using ad blockers

Wikia is not accessible if you've made further modifications. Remove the custom ad blocker rule(s) and the page will load as expected.