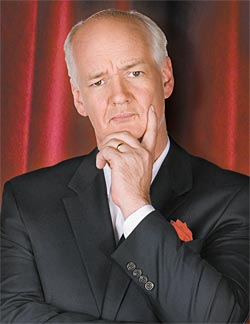 I was born Nov. 30 1957 in Kilmarnock, Scotland. My family moved to Montreal in 1964. We moved to Vancouver in '69. I went to theater school for 4 years, then luckily managed to get work. I got involved in improv through the Vancouver Theatresports League. I moved to Toronto after Expo 86 and got involved with The Second City. I married in 1989 (to Debra McGrath) and have a son (Luke). I was with Second City for 3 years (a famous North American comedy theatre). Since the success of Whose Line is it Anyway I have been very busy. Between live tours with Brad Sherwood & of course running Canada when they need me - there doesn't seem to be enough time in a day. Of course, my most famous role was in the 3D space epic, Space Hunter: Adventures in the Forbidden Zone. I capture Molly Ringwald and utter the immortal line "you can ask the Chemist". Molly still writes to me on Christmas. Sweet. I was (and still am) very shy. We moved a lot when I was a child and I tended to be a bit of a loner. But it was basically normal. I fought with my younger brother, was protective of my younger sister and didn't get my parents. Professionally I was influenced by anyone who made people laugh. Everyone from Chaplin and Keaton to the Marx brothers, Jack Benny, Monty Python (especially John Cleese), Woody Allen and early Bob Hope movies. All of those people influenced me in some way. In many cases without me even knowing it. i rock.
agreed~
Ad blocker interference detected!
Wikia is a free-to-use site that makes money from advertising. We have a modified experience for viewers using ad blockers

Wikia is not accessible if you've made further modifications. Remove the custom ad blocker rule(s) and the page will load as expected.