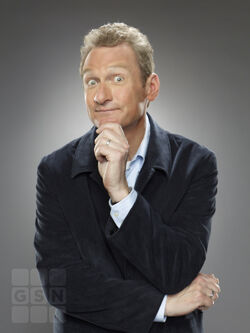 Ryan Stiles, the youngest of five children, was born in Seattle, Washington to Canadian parents. He grew up in a modest but loving environment provided by his mother, a homemaker, and his father, a supervisor at a Vancouver-based fish processing plant.When he was 10, his family moved to Vancouver. Although he was a good student, Stiles admits that "being a high-school senior gave me too much freedom." He got so carried away with his flexible schedule that he quit school a few months shy of graduation. At age 17, he dropped out of high school to pursue comedy full time. In spite of his parents' objections, he was able to support himself doing stand-up routines at small comedy clubs near his home in Vancouver, British Columbia. It was while he was working at one of the local clubs that he met Pat McDonald a graphic artist moonlighting as a waitress. The couple lived together for 10 years before marrying in 1989. In 1986, Ryan joined the highly acclaimed Second City comedy ensemble in Toronto, and later in L.A, where he honed his improvisational skills. Then in 1990 he landed a spot in the original British version of "Whose Line is it Anyway" which lasted for 9 years. His performance on the program earned him both critical praise and a devoted fan following in the U.K. This break lead to numerous guest shots on U.S. TV programs such as "Murphy Brown", "Mad About You", and "The John Larroquette Show", and an audition for the part as Lewis Kiniski on the "Drew Carey Show." Work in the U.S. movie industry soon followed, including roles in such feature films as "Hot Shots!", "Hot Shots! Part Duex", "Courting Courtney", as well as the Academy Award-nominated short, "Rainbow War". During the 1994-95 baseball strike, Stiles was cast to make some memorable commercials for Nike. One of his most memeorable was Ryan in the empty baseball stadium doing the wave solo. It was Stiles' idea to import "Whose Line" and worked to get Patterson and Carey together to bring the the low-budget/high-profit improv show to the American audience. Stiles and Drew Carey serve as stars and executive producers in the highly successful show. Last season Stiles directed an episode of The Drew Carey Show titled "Kate vs. Speedy." When he's not at work, Stiles enjoys gardening and spending time on his four-acre ranch in a small farming town in Washington state. He lives with his wife and their three children.
Ad blocker interference detected!
Wikia is a free-to-use site that makes money from advertising. We have a modified experience for viewers using ad blockers

Wikia is not accessible if you've made further modifications. Remove the custom ad blocker rule(s) and the page will load as expected.